Configuring single sign-on for the other IdP
As the Organization Administrator, setting up single sign-on (SSO) is crucial to managing access to various applications. SSO allows for a seamless sign-on experience, and gives centralized and streamlined access control to security operations teams.
To manage SAML SSO settings, you must have the Organization Administrator role.
From any page from Astra DB, select the Organizations dropdown. Select the organization for which you want to configure your SSO.

Go to the dashboard and select Organization Settings. Select Security Settings.

If this is your first time configuring SSO, no identity providers (IdP) will be listed for your organization.

Select Add Identity Provider.

Select Other as your IdP and add the name of the unlisted IdP in the empty field.

The following fields display information you need to provide your IdP:

SAML Assertion Consumer (ACS) URL (also called "Single Sign On URL")

Audiene URI (also called "SP Indentity ID")

Relay State (also called "Default Relay State")

image::ROOT:other_linkIdP.png[]

[NOTE]
===
Without a known IdP, a link to obtain information from an IdP cannot be listed. You must locate this information and complete the following fields.
===

Information to receive FROM your IdP (click the information from your Identity Provider to learn what information you need for the following fields)

Description

Login URL (also be called "SAML Endpoint")

Azure AD Identifier (also called "Entity ID" or "Identifier")

SAML Signing Certificate

image::ROOT:other_obtainIdP.png[]

After confirming all the information is correct, scroll down and select Test Configuration.

A new tab opens in the browser window housing your IdP log-in screens and flow. When you complete the login, the window closes.

The Test Configuration is deemed successful when a confirmation icon appears beside the Test Configuration button.

| | |
| --- | --- |
| | If the test was unsuccessful, review the SSO settings in Astra DB and your IdP console. If still unsuccessful, contact DataStax support. |

Select Activate SSO when your test configuration is successful. A message appears confirming the SSO is now active for your selected organization.
You can suspend any active configuration from your organization. The Disable option deactivates your active configuration.
| | |
| --- | --- |
| | If you disable your SSO configuration, users can access your organization without SSO authentication. |
Select the ellipsis (…​) next to your active configuration. Select Disable.

A dialog box appears to confirm you want to disable this configuration. Type "disable" and select Disable SSO Configuration.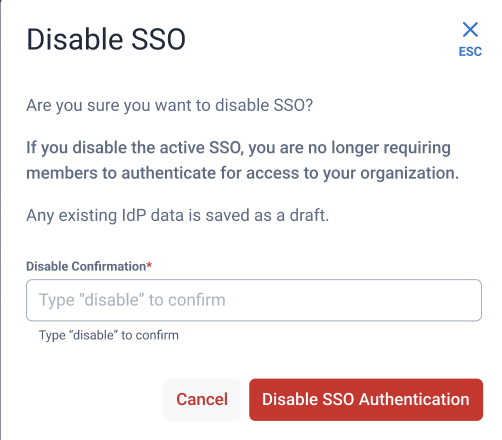 To complete your configuration later, select Esc in your configuration to save the current information as a draft. All drafts and the active configuration appear on the table of the Single Sign-on (SSO) page.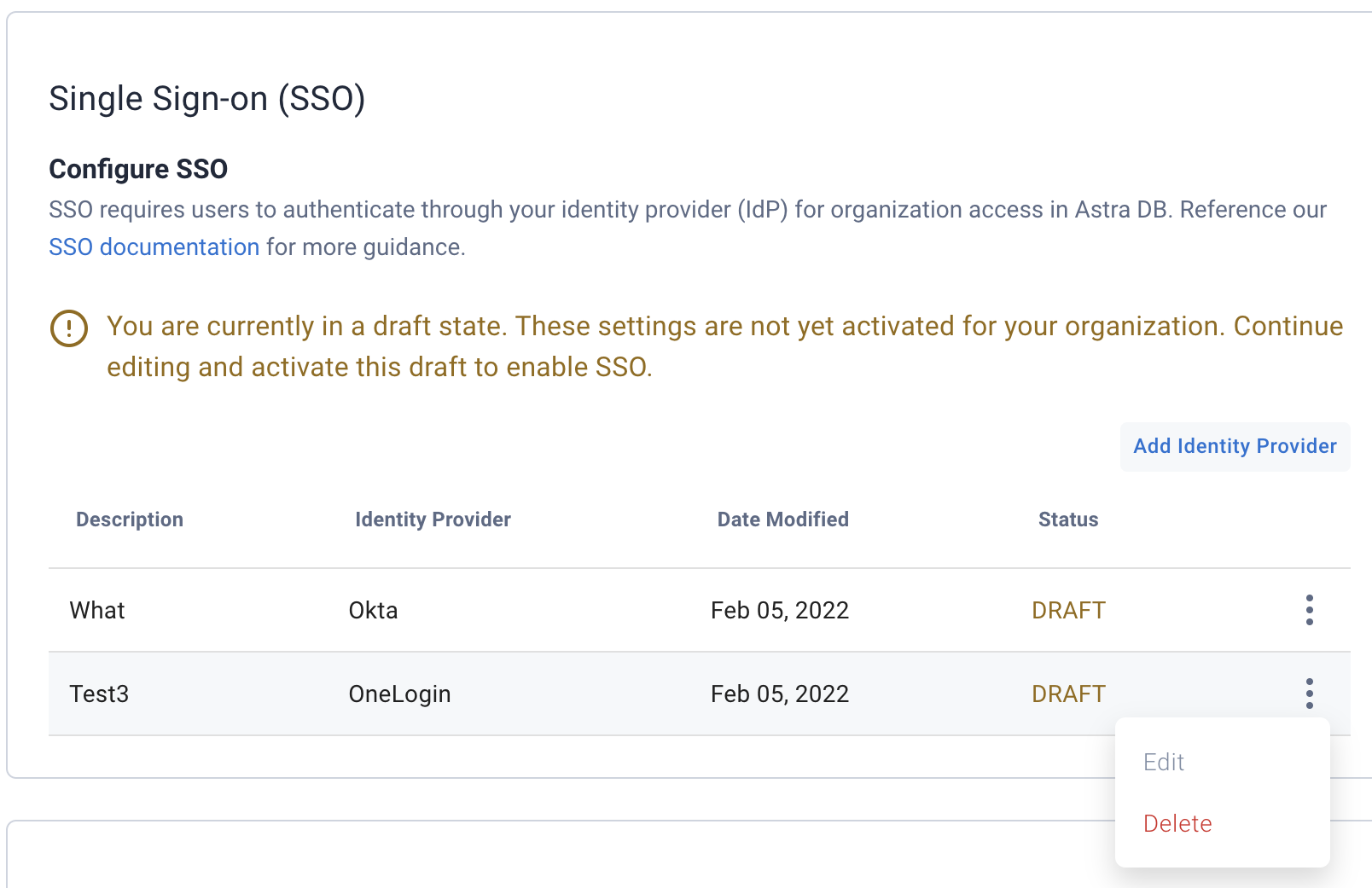 Select the ellipsis (…).

Select either Edit or Delete:

Edit returns to the Configure SSO page to continue editing the draft and complete the SSO configuration.

Delete removes the row from the table and is permanent. This choice displays a dialog box. To delete the draft, type "delete" and select Delete SSO Authentication.
| | |
| --- | --- |
| | An organization can have have multiple configuration drafts, but only one active configuration. |